Sundance Golf Club Blog
Sundance Golf – Friday, September 06, 2013
The golfer who can hit more than one basic shot has an advantage, since any given shot may require something a little different to make the ball finish at the target.
A good way to increase your shotmaking capability is as follows: When you go out for a casual nine, carry half of your set (say a 3 wood, 7 wood, 5, 7, 9, irons, sand wedge and putter). You'll need to improvise to get a little more or less distance out of a given club, hit it higher or lower, or make it stop a little faster or roll more. This exercise will teach you a lot about making fine adjustments to your swing. You may even find out how you are able to score better while using fewer clubs.
---
Sundance Golf – Wednesday, August 07, 2013
On putts of 40 feet or more, it is difficult to correctly gauge the force of the stroke you are going to need. Here's a mental trick that really helps: Walk from the hole to a point that's halfway along the line back to your ball (20 feet out for a 40 footer). From this spot, take a practice stroke of the length needed for this distance. Try to retain the feel of this stroke as you go back to the ball. Then, simply multiply the force of that stroke by two to give you the amount of power you need for your "real" stroke.
By dividing these lengthy putts in half and "feeling" the distance for each half, you get a much better sense of the force you will need to lag those long ones close.
---
Sundance Golf – Tuesday, June 04, 2013
"Line up the Leading Edge"
It does a player no good to strike an iron shot solidly, but hit it off-line so that it finds a bunker or otherwise misses the green. However, many golfers have difficulty lining up the clubface to the target, particularly with the shorter irons. This is because they tend to look at the more rounded top line of the clubhead when they address the ball.
Instead, carefully align the straight leading edge of the clubface to your target as you begin your setup. Set this leading edge square to your target, then step into your stance by placing your body at perfect right angles to the leading edge. More on line approach shots should be the result.
"The Out of Bounds Penalty"
When you hit a ball out of bounds, meaning outside of the boundaries of the course as defined by white stakes, the rule is clear: Play a second ball from he same spot as your first stroke, adding a one shot penalty. In other words, if your tee shot finishes out of bounds, you must count the stroke, add a penalty stroke, then play another shot from the tee, which would count as your third stroke on the hole.
 
It's always wise, if you're uncertain whether you shot has gone out of bounds, to hit a provisional ball from the original spot. This way if your first ball did finish out of bounds, you don't have to go all the way back to replay it.
---
Sundance Golf – Thursday, February 21, 2013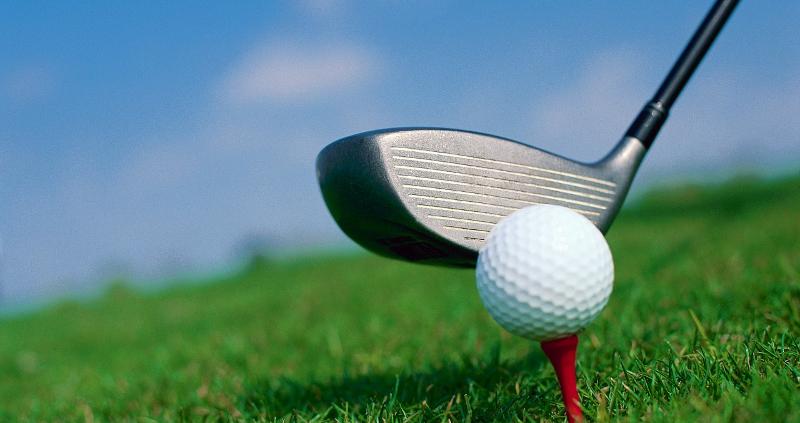 We couldn't be happier with the condition of our course or the traffic we've been seeing. Both are good indicators that we are on the right path and our guests are enjoying the property. Our crew has been working hard to keep up with filling divots and maintaining the outlying areas of the golf course and the result is a more enjoyable experience for all who are playing at Sundance Golf Club this season.
We have been noticing that with increased traffic comes increased wear and tear to our putting surfaces. As we the staff, are out playing we make sure that we each fix at least two ball marks per green. We will ask that you, our guests please do the same. If each of us were to fix two marks for every one we make in a very short time no marks should exist. Please make an effort, not only for us but for all that play the game of golf, to stay ahead of pitch marks and try to repair more marks than you create.
---
Sundance Golf – Thursday, January 03, 2013
Your approach shot lands in a bunker and upon reaching the ball, you find it deep in a hole near the lip of the bunker. The hole has clearly been made by some type of animal (such as a rabbit, mole, or gopher). You claim that this is an obstruction and you are allowed to take a free drop. Your opponent however says you can't move the ball since it is within a hazard. Who is right???
You are. Under the rules of golf, if the ball finds a burrowing animal hole within any hazard, including bunkers, you may drop the ball at the nearest point of relief, no closer to the hole while remaining within the hazard, with no penalty.
The important thing to remember here is that when taking relief you must remain within the hazard and are not allowed to relieve yourself from the hazard.
---
Sundance Golf – Tuesday, January 01, 2013
Sundance Golf Club Fun Raiser

Mark those calendars! We have a wonderful event coming up this month. On Saturday, January 12th Sundance Golf Club will be hosting the second annual Sundance Golf Club "Fun Raiser" to benefit the All Faith Community Services of Buckeye. Last year's event was a huge success and we expect for the fun to continue this coming year. Charles Waters and our Men's and Ladies' Clubs here at Sundance have a great time hosting this event and raise lots of money for a very worthwhile cause. Festivities will include a putting contest to begin at 8am; putters will compete in flights along our temporary miniature putting course, a nine hole scramble beginning at 1pm, players will again compete in flights, and all the while plenty of food, drink, and fun to be had with prizes, silent auctions, raffles, and more. Come show your support for the neighborhood and surrounding communities of Buckeye, say hi to Mayor Jackie Meck, and help a worthwhile cause all at the same time. Players interested in signing up for the 1pm 9-hole scramble should contact the golf shop for more information.
Sundance Club Championship Series Event
We will be hosting our first Sundance Club Championship Series event on Saturday, January 5th 2013 at 8am. Players have been earning points since November, trying to earn their way into our Ryder Cup teams by playing in the weekly skins games. One victory in a tournament event can put you ahead of everyone. Come on out and play with us diehards, we'd love to have a few new players in the mix. Check with the golf shop for more information or to sign up.
Sundance Game Improvement Series
Come out any Thursday afternoon now through the end of May and spend an hour with us working on your game and getting some free support. We are spending an hour every week at 2pm making sure that everyone interested in exposure to our game has the chance to experience it for themselves. We've got clubs, we've got balls, just bring yourself and a positive attitude. It could be the best thing you've done in quite a while and the perfect way to start the new year!
MONTHLY SPECIAL…
"Golden Domers"
This month's code word is in honor of Notre Dame, Home of Rudy and a storied college football program that has recently made it back to the top of its game. Our National College Football Championship game is coming this month and we want to lend our support to the Notre Dame Fighting Irish by honoring a reduced rate at the golf course when you name drop the term "Golden Domers." Call us to book your time and mention the code ward when you check in for a reduced rate of Only $32 per player plus tax. Grand Slam Pass holders using the code word will Only pay $27 + tax.
---
Sundance Golf – Friday, March 19, 2010
Golf for health and a healthier lifestyle. It may sound too good to be true, but in fact it is the truth. A game of golf is a great way to stay in shape and relieve stress. It also introduces you to new friends and provides a social circle outside of work and the home, which is a great benefit for mental health. Beyond the benefit of spending a day outdoors, golfing for health has proven to be an effective path to overall wellbeing and fitness.
Can you really golf for health? Yes! Activities which include load bearing work are excellent for building bone and muscle strength. Playing a round of golf carrying your bag is a perfect example of this type of exercise. The weight of the bag helps to build strength in the legs, core and shoulders. It is also good for your bone health and can help to stave off diseases such as osteoporosis. If your bag hurts your shoulder wrap the strap in a towel for added padding or look into buying a double strapped bag.
Carrying that bag full of clubs around is also excellent for your cardiovascular health. Walking a round of golf for health will burn three hundred calories in an adult, two hundred and seventy if you use a cart. So skip the cart and enjoy stretching your legs over all eighteen holes as this will help to strengthen your heart and lower cholesterol. Simply going to the driving range and knocking off balls for an hour burns two hundred calories by itself.
Another benefit to this exercise is that it will help you to sleep better at night. It has been proven time and again that regular exercise improves sleep. Why resort to pills when you can get a better night's sleep by playing a round of golf for health? By exercising you will help yourself to fall asleep faster and sleep more soundly through the night.
Golf for health also provides an outlet for socializing with like minded individuals. This is a critically important aspect of a mentally healthy and well balanced lifestyle. Everyone needs the opportunity to put the worries of home and family aside for a moment and to focus on something that they love to do. Golf is the perfect example of this.
So get out of the crowded gyms, most of us spend too much time indoors as it is, and get outside and enjoy a game of golf for your health.
---
Sundance Golf – Friday, February 12, 2010
Charity golf tournaments combine the best of sports and philanthropy. What better way to spend a day than out in the sunshine, playing the great game of golf while also giving back to those in need. A charity golf tournament allows you to do all these things while enjoying a competitive game with friends and new players alike. The money that goes into one of these events helps to run the tournament and the proceeds then go to a charitable cause.
In order to raise the most money for your charity golf tournament, you must maximize player turnout and also maximize the amount of money contributed per player. In order to do this effectively you must publicize the event to increase awareness. Then, you must set a minimum bid per player, $100 should be the lowest you set the figure to, and then encourage each player to solicit charitable pledges from members of the community. Another way to increase player turnout is to offer prizes for performance. Prizes contributed to your charity golf tournament from local businesses for things such as longest drive, closest to the hole, lowest average, and lowest adjusted average, will help to maximize your event's participants.
Make sure to plan your charity golf tournament with enough time to organize all of these factors and be sure to strike a bargain with the course. For your event, you should be able to negotiate lower greens fees and cart rentals. Seek out corporate pledges and you can easily see the amount of money your charity golf tournament generates grow quite large even if you are a small group setting it up. It is also wise to set up your tournament on a weekday when the course will largely be free and reserving large blocks of time for your players will be easy to do. Lastly, if you have the means or the time, drawing in a celebrity to participate will vastly increase your draw and you will be able to generate a very large amount of money for the charity of your choice. Click here to learn more about planning your next charity golf tournament at Sundance Golf Club.
---
Sundance Golf – Friday, February 12, 2010
An annual golf outing is a fantastic way for friends to stay in touch with one another, get away from the hustle and bustle of their lives and enjoy their favorite game, as well as a way for groups to stay in touch with one another. Annual golf outings typically are organized in one of two ways: as a small group of friends or as a gathering of a group or business. Either type of event allows for unique opportunities for those who participate.
An annual golf outing consisting of a small group of friends who meet with one another every year is an informal affair and easily organized. Look for a course (or courses) that will provide a challenging and enjoyable venue. Places such as Arizona provide a fantastic location for an annual golf outing as the weather is typically very good, and the courses are world renowned. In a location such as this, a group of friends can be sure to enjoy their time on the links experiencing a new course and catching up with loved ones. These types of trips provide memories and bonds of friendship that will last a lifetime and are not to be missed.
The second type of annual golf outing typically is run by a business or group with the aim to reconnect its various members. Alumni associations, professional groups, and corporations will have annual golf outings. These events often raise money for charity or scholarship funds and therefore provide the double benefit of giving back to the community and providing an enjoyable event for its participants. The other purpose of these events is to allow individuals with similar interests, backgrounds or professions to reconnect with one another and meet newer members to their organization. These relationships then foster business ventures, and increase communication between various professionals. It is a well known fact that many deals are brokered on the golf course and an annual golf outing helps to facilitate these interactions and to reestablish bonds of friendship. Find out more about our Annual Golf Outing services at Sundance Golf Club.
---
Sundance Golf – Friday, February 05, 2010
Are you considering a public golf course in Phoenix, AZ? If not then you should be. The old question of which direction to go, private vs. public golf course is easily answered if you ask yourself the right questions. Do you like to play a lot of golf, but don't have a country club membership? Do you like to try out different courses and see yourself getting bored of playing the same course over and again?  Do you enjoy playing winter golf in Arizona without paying the premium fees? If you answered yes to any of these questions, the public course option is the right path for you to take.
Private courses come with high fees, most of which goes towards paying for a clubhouse that if you are a serious, or infrequent golfer, will often be wasted on you. At a public golf course in Phoenix, you are only paying for the round you play. You are also avoiding tethering yourself to a single location. By getting SWPGA pass from In Celebration of golf management you have a multitude of locations to play at in Phoenix that provide variety, new people to meet and new challenges to overcome. Each course provides its own unique design and beautiful views. Arizona is known for its sunshine and great golf weather, so take advantage of it by giving yourself the freedom to see all of what the area has to offer.
There is no need to tie yourself to a single, expensive, private clubhouse. By taking advantage of the expertly maintained, gorgeous Phoenix public golf courses, you will be saving money, and ensuring a new experience whenever you want one. If you would rather hang out in an expensive clubhouse instead of actually swinging your clubs, then consider paying the high fees at a private course. Otherwise, make the smart call and go public, and let yourself be thrilled with all the Phoenix golf scene has to offer you.
---
Sundance Golf – Thursday, January 21, 2010
Looking for discount golf in Arizona? Well the Grand Canyon State offers the price minded golf enthusiast a wide array of choices. Known for its stunning scenery and fantastic, sunny weather, Arizona is a golfer's paradise. With an average of only seventy rainy days near Flagstaff to as little as fifteen in the Yuma area, the Copper State is a safe bet for a sunshine filled day on the course. You don't have to sacrifice quality when looking for an affordable course if you know where to look.
Golf is not a cheap pastime, as we all know. With the expense of clubs, shoes, tees, balls, etc. the price for getting out on the course adds up quickly. So why compound this situation by paying exorbitant green fees? Arizona offers the opportunity for discount golf to mitigate these steep costs. The courses you will find in the southwest are top quality as well, with professional grounds men, courteous staff and views you won't find anywhere else in the world. The contrast of deep green, well manicured fairways against the starkly beautiful desert landscapes full of oranges, purples and reds will take your breath away. Enjoying all of this under the warm Arizona sun will provide you with memories that will last long after your round is done. eighteen hole
When you combine the low cost of the courses with the wonderful weather and beautiful scenery they have to offer, there's no reason to keep the clubs at home. Whether you are a local looking to improve your short game, or a visitor looking to get your fix while on the road, you can find the quality courses you are looking for at a price that won't break the bank. Discount Golf in Arizona is the economic choice for the discerning golfer.
Sundance golf course offers wonderful discount golf opportunities.